This guide looks at how to use the advanced search options when searching EIN. Please note that these options require an exact match of the field you are searching.
Showing the advanced options
The advanced options will allow you to be more precise about what you are searching for (however, impressive relevancy ranking on the EIN means these options should rarely be needed).
Simply click the '+ Advanced options' link to reveal: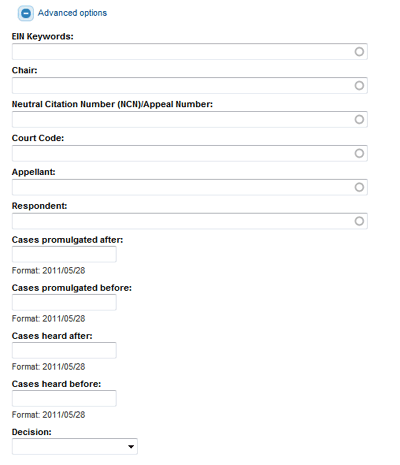 When they advanced options are shown, you can click '- Advanced options' link to hide them again.
Entering your search query
It is important to note that the advanced options require an exact match of the field your are searching.
So, for example, you will need to enter [2010] EWCA Civ 719 in the NCN/appeal number field in order to find that case. Simply entering Civ 719 or 2011 719 will not be enough.
However, when typing in the advanced fields, you will see an autocomplete appear with searches that match what you are typing. The autocomplete suggestions change as you type. The autocomplete suggestions will also tell you how many items your search will find (the number in brackets):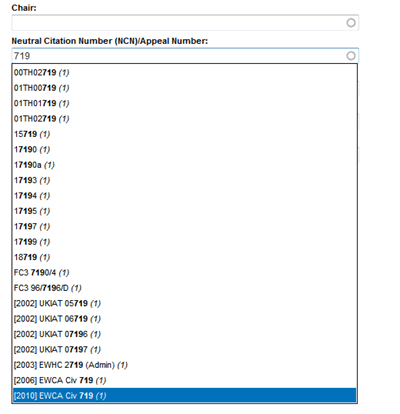 The more your typing matches the result, the less options you will see: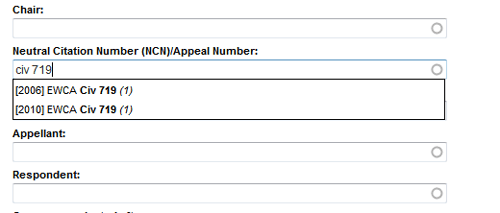 You should select the autocomplete suggestion that matches what you are searching for - this will ensure that you enter the exact match required in these fields:

If the autocomplete does not suggest a match for your typing then try an alternate way of typing your query.
For example, if you are searching the appellant field by first name and surname, try just typing the surname. Also consider the use of brackets, e.g., typing rs zimba... in the appellant field will not produce a match, but typing rs (zimb... will.
Searching to find a particular case
EIN believes that finding a particular case will be when the advanced options may be most needed and so a case finder available here provides an alternative way of searching for a specific case by citation, appellant, respondent or NCN/appeal number.
Unlike the advanced options in the main search engine, you do not have to worry about an exact match using the case finder. So, for example, a search in the appeal number field for for Civ 719 or 2010 719 will find [2010] EWCA Civ 719.
Searching by EIN index terms in the advanced options
You can also search by index terms by entering the index term in the advanced options on the search page (in the EIN index terms: field). Just begin typing and the autocomplete will match the index term. Select the term from the list when it appears:

To search for multiple index terms, type a semi-colon  ;  after each index term and begin typing again. The autocomplete will continue to match your typing and you can continue to select index terms. E.g., MILITARY SERVICE;CONSCIENTIOUS OBJECTORS would search for those two index terms:

The glossary of EIN index terms can be viewed here.