If you have forgotten or lost your password, you can request a new password via the website or you can contact EIN.
Contacting EIN
If you do not know your username or registered e-mail address or if you do not have a valid e-mail address, please contact EIN at admin@ein.org.uk to request that we reset your password for you.
We can also set a specific password for you. You may find this useful if you reset or changed your password, but you would rather keep your old EIN password. Please email us to request this.
Requesting a new password automatically
To request a new password, click here and enter your registered EIN e-mail address or your EIN username. Click the 'Submit' button and you will be automatically e-mailed a one-time login link.
Click the link in the e-mail you receive and you will be taken to a page on the EIN website where you can click a 'Log in' button to log in. After you log in, you will then be directed to the page on EIN where you should generate and save a new password.
Scroll down and click the 'Create password' button and you will be notified of your password (you can copy it if required). Then click the 'Save' button. This will now be your new EIN password and you will need to enter it when you next log in to EIN.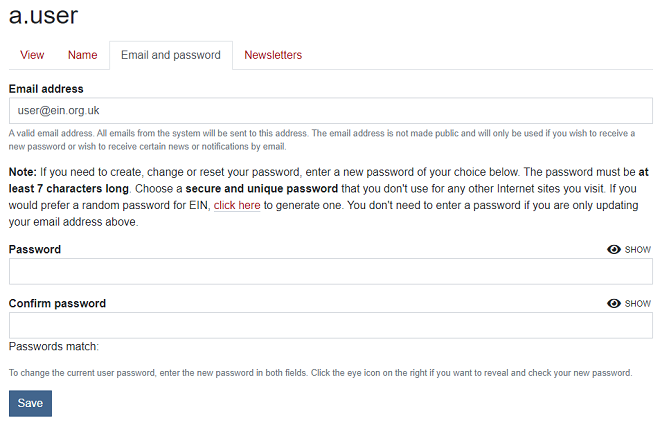 Your new password will be displayed on the screen. Make a note of it and then click the 'Save' button.