If you have forgotten or lost your password, you can either request a new password automatically via the website or you can contact EIN and request that we manually set a new password for you.
If you use the website to automatically request a new website, you'll be e-mailed instantly so we recommend using this method if you need your password in hurry or if you are requesting a password outside of normal office hours on Monday to Friday.
Contacting EIN
Please e-mail EIN at admin@ein.org.uk and request that we set a new password for you. We'll reset your password and e-mail it to you as soon as we can.
You can also e-mail us if you need to request new passwords on behalf of other EIN users in your organisation.
Requesting a new password automatically
To request a new password automatically, click here and enter either your registered EIN e-mail address or your EIN username (if you don't know either, please contact EIN as described above). Click the 'Submit' button and you will be instantly e-mailed a one-time login link.
Click the link in the e-mail you receive and you will be taken to a page on the EIN website where you can click a 'Log in' button to log in. After clicking the button to log in, you will be directed to a page on EIN where you should enter and save a new password of your choice.
Follow the instructions on the page when entering your new password. Your password must be at least 7 characters long. You should choose a secure and unique password that you don't use for any other Internet sites you visit. If you would prefer a random password for EIN, you can click the link in the instructions to generate one.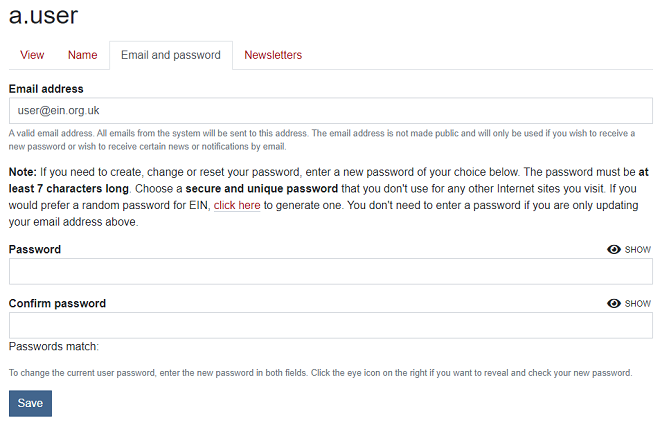 We have some checks in place to stop you using insecure passwords. For example, you are not allowed to use your EIN email address or your EIN username as your password. Some very common passwords will also be rejected (so that you don't pick very insecure passwords such as 'password' or '1234567').
Make sure you click the 'Save' button after entering or generating your new password. It will become your new EIN password and you'll need it when you next log in to EIN.