Charities call for asylum accommodation system that is fair, accountable and fit for purpose
Summary:
Thirty three asylum and refugee support charities write an open letter to the Home Secretary
Charities call for asylum accommodation system that is fair, accountable and fit for purpose
15 December 2017
EIN
The Scottish Refugee Council, together with thirty-two other leading refugee/asylum seeker charities, yesterday wrote an open letter to the Home Secretary to call for an asylum accommodation system that is fair, accountable and fit for purpose.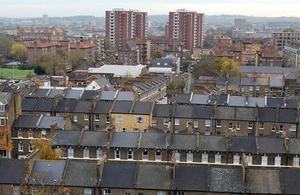 In the letter, the charities said a safe, secure home is a necessity for people seeking refugee protection in the UK.
Beyond such housing being merely thought of as a legal obligation, the charities said "it is essential that the task of providing accommodation to people seeking international protection is done in a way that ensures people's needs, dignity and wellbeing are upheld and maintained."
The Scottish Refugee Council and others expressed concerns that the Home Office had not engaged substantively with a recent report by the Home Affairs Select Committee which had highlighted widespread failures in asylum accommodation.
The letter comes as the government is currently contracting to provide asylum accommodation for the next decade.
In November when the £4 billion contract was put out for tender, the Scottish Refugee Council Head of Policy and Communications, Gary Christie, said: "This contract allows huge multinational companies to make decisions about where people live and no one in the communities affected can do anything about it."
"While private companies receive millions of pounds to provide accommodation, local authorities may once again receive nothing from the Home Office to provide the additional services that new members of a community need, including health services, schools and colleges, and legal support."
Christie added: "Over the last four years we've witnessed private companies source the cheapest accommodation available for people in need. We've seen no evidence of these companies making efforts to put services in place to give people a fair chance at a successful claim for refugee protection and support their integration into society."
In yesterday's letter, the refugee charities urged the Home Secretary to make the following commitments before awarding the new contracts:
• Confirm that the new contracts will be independently reviewed within 3 years of operation to check whether they are performing well, need reform, or need to be halted.
• Provide for an independent oversight and accountability role to local authorities in terms of how this public service of housing is planned, procured, implemented and formally scrutinised in their areas.
• Ensure that local authorities and communities involved in asylum dispersal are fairly and fully financially resourced in order to ensure the long-term sustainability of the dispersal system, recognising their role as key stakeholders in the provision of asylum accommodation and integration of new communities.
The House of Commons held a lengthy debate yesterday in Westminster Hall on asylum accommodation.
Opening the debate, Yvette Cooper, chair of the Home Affairs Select Committee, said: "This is a crucial time for Parliament to consider this issue, because the contracts for asylum accommodation across the country are open for tender—I understand that the closing date is in three days—and we do not want the failings that we have identified in the last few years in the previous contracts and system to be carried forward into the Government's plans for the next 10 years, which is the period the new contracts are due to cover."
Cooper spoke of a "stark difference" between the national contract-based asylum accommodation scheme and the Syrian vulnerable persons resettlement scheme, in which local authorities have a central role.
"In the interests of community cohesion and of being able to draw on the very best traditions of our country and of those who want to provide support for people fleeing persecution and seeking asylum—people in desperate need of help—we should give local authorities a much more central role in the process," she said.
Speaking for the government, immigration minister Brandon Lewis said the UK has a proud history of providing an asylum system that should look to protect and respect the fundamental rights of individuals seeking refuge from persecution.
"I have always been clear that I personally and we as a Government are committed to continuing to ensure that destitute asylum seekers are accommodated in safe, secure and suitable accommodation. They should be treated with dignity while their claims are considered," Lewis said.
He said the "vast majority" of asylum accommodation provided has been maintained at a good standard, though defects and issues can and do occur: "Where they do, our providers are required to rectify them. If any hon. Members have examples of where that has not been done, I want to know about them so that we can chase them through the system."
Lewis said that the new accommodation contracts will improve service user orientation to help asylum seekers live in their communities and access local services, and he added that alongside the new accommodation and support contracts, the government will introduce a national contract to provide users with advice and assistance for completing applications.