Summary:
Committee says the 28 day period isn't long enough to access desperately needed support
Date of Publication:
27 June 2019
Work and Pensions Committee criticises Government's "shameful" approach to 28-day move on period for new refugees
27 June 2019
EIN
Parliament's Work and Pensions Committee on Monday criticised what it called the Government's "shameful" approach to the 28-day 'move on period' given to refugees after being granted sanctuary in the UK. The move-on period sees refugees move from receiving asylum support to employment and/or mainstream benefits.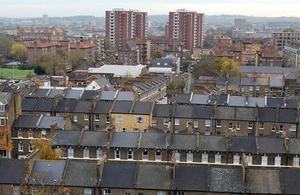 The Committee was responding to the publication of a joint Home Office/Department for Work and Pensions (DWP) evaluation report, which you can read here.
The Work and Pensions Committee first called on the Government to investigate the move-on period in December 2015, but the evaluation report was only supplied to the Committee this month.
While the Committee had raised concerns that the move-on period is insufficient, it noted on Monday that the Government's evaluation report makes no mention of changing or extending the move-on period's duration.
Frank Field MP, the Committee's Chair, said: "Three and a half years ago, we pointed out to Government that its own research showed 28 days is simply not enough for some refugees to access the support they will desperately need, at least at the start, from the benefits system – and that the result was more people left destitute by the ticking clock of bureaucracy. The Government promised us in 2016 that it would act – but now we discover that the only 'help' on offer is a Jobcentre appointment, and that this 'offer' isn't even reaching half of those who need it.
"The Government is simply sticking its head in the sand. It knows that the 28 day period just isn't long enough for people who've fled persecution, violence and war. But it counts it as a success if some refugees manage to get themselves into debt from the word go, by taking a Universal Credit advance. When will it face facts, and make some real changes?"
The Committee says it has now since written to the Minister for Family Support, Housing and Child Maintenance with a series of new questions.
Meanwhile, the No Accommodation Network (NACCOM) last week published a new report looking at refugees' vulnerability to homelessness during the move-on period. You can read the 20-page report here.
The report builds on the findings of NACCOM's June 2018 report, which made a direct link between the move-on period and the high prevalence of homelessness among refugees in the UK.
NACCOM's new report notes: "Whilst actions that government departments have implemented to support refugees in the last year are cautiously welcomed, there remains a disconnect between public policy and the experiences of homeless refugees. Some of this has to do with the pace of learning around government initiatives, but it is also clear that 28 days is simply not long enough to definitively prevent homelessness."
NACCOM recommends that the move-on period should be extended to at least 56 days alongside improvements to support, so no refugees face homelessness and destitution after leaving asylum accommodation.
Hazel Williams, NACCOM's National Director, said: "It's a shocking reality that refugees continue to be homelessness, when it is entirely avoidable. For too long people coming here in search of safety have been welcomed by first being turfed out onto the streets. We call on the government to adopt the recommendations within our report and bring an end to this travesty".