Summary:
New visa service criticised for lack of free appointments, "extortionate" fees and long travel distances
Date of Publication:
24 June 2019
Law Society and ILPA back MPs' call for an urgent investigation into the Home Office's partnership with Sopra Steria
24 June 2019
EIN
The Independent reported today that Labour, Liberal Democrat and Green Party MPs have written to the National Audit Office (NAO) to request that they conduct an urgent investigation into the Home Office's commercial partnership with the French company Sopra Steria.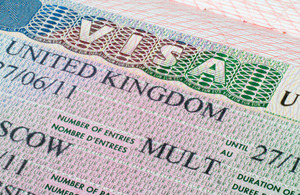 The Law Society and the Immigration Law Practitioners' Association (ILPA) both backed the MPs' letter.
Sopra Steria was last year awarded the contract to deliver a new service for people applying for a work or study visa, settlement or citizenship from within the UK.
Earlier this month, the Independent reported that the new system had been criticised for a lack of availability of free appointments, leading to "extortionate" fees and long travel distances, while Sopra Steria had taken several million pounds.
Law Society president Christina Blacklaws told the Independent that applicants were being offered "often very costly, unnecessary supplementary services when they may be particularly vulnerable".
She added: "There is a real risk of an increase in Home Office refusals based on a lack of evidence simply because the subcontractor has rejected, failed to request or to transfer the relevant evidence from applicants to the Home Office. These grave problems in our immigration system undermine the rule of law, while also damaging our country's reputation for justice and fairness."
The Independent reported today that Labour MP Paul Blomfield was among those who had now written to the NAO expressing their extreme concern and calling for the services offered by Sopra Steria to be scrutinised effectively. Liberal Democrat MP Davey said it was a "scandal" that private firms were "profiteering" from visa application fees.
Labour's Afzal Khan MP stated on Twitter that his constituents were being "ripped off" and said the Home Office must review its partnership with Sopra Steria.
Christina Blacklaws was quoted in today's Independent article as saying: "Given the problems which have been raised by us and by others it makes sense at this point for the operation to be subject to independent scrutiny. We are extremely concerned inconsistencies in the process could lead to unlawful or incorrect decisions for applicants."
Nichola Carter of Carter Thomas Solicitors posted on Twitter: "I've worked with a number of organisations that have, for months, been warning the Home Office that the UKVCAS run by Sopra Steria is not providing a suitable service. Hopefully scrutiny by MPs and the media will trigger a rapid improvement process."
In response to the criticism of the new service, a Home Office spokesperson told the Independent: "We are sorry for any inconvenience caused to those unable to access appointments, which have been subject to a higher than expected demand. The Home Office is working closely with Sopra Steria to ensure additional appointments are made available at existing sites across the UK."
The spokesperson said a full refund would be provided to those who paid a fee for an appointment that was not completed as a result of technical issues.