Summary:
The Immigration Bill 2015/16 completes its passage through Parliament to become law
Date of Publication:
13 May 2016
Immigration Bill receives Royal Assent: the Immigration Act 2016 is here
13 May 2016
EIN
The Home Office has confirmed today that the Immigration Bill 2015/16 has completed its passage through Parliament to become law.
The Immigration Bill received Royal Assent yesterday.
According to the Home Office, the Immigration Act 2016 introduces a series of reforms to further crack down on illegal migration, further strengthening the immigration system and making it "harder than ever for people who have no right to be in the UK to live here".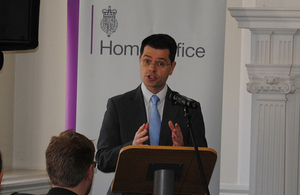 Immigration Minister James Brokenshire said: "The message is clear - if you are here illegally, you shouldn't be entitled to receive the everyday benefits and services available to hard-working UK families and people who have come to this country legitimately to contribute.
"Whether it is working, renting a flat, having a bank account or driving a car, the new immigration act will help us to take tougher action than ever before on those who flout the law.
"It will deter illegal migrants from trying to reach the UK by preventing them from accessing benefits or services in this country and make it easier for us to remove those with no right to be here.
"At the same time, it will help us tackle the exploitation of low-skilled workers, create a fairer and more humane detention system and offer the vulnerable sanctuary."
The Home Office says the main powers of the new act includes:
• tackle illegal employment, including a new offence of illegal working
• require landlords to carry out checks on whether prospective adult tenants have a valid immigration status
• immigration enforcement officers will have new powers to search individuals and properties and seize identity documents if they suspect someone to be here illegally
• electronically tag foreign national offenders on immigration bail
• restrict the support we give to people whose claims for asylum have been rejected to those who are destitute and face a genuine obstacle to leaving the UK
• resettle unaccompanied children impacted by the ongoing migration crisis
• ensure all public employees in customer-facing roles speak good English
• impose a new skills levy on businesses bringing migrant labour into the country so we can reduce our reliance on imported labour, and boost the skills of young people in the UK
The Government adds that it has committed to place new limitations on the detention of pregnant women and will introduce regular bail hearings to ensure those entering detention stay there for the shortest period possible.
The Refugee Council's Parliamentary Manager Jon Featonby yesterday took a look at what the Act will mean here.