Summary:
Visas to be to extended to 31 May 2020 if you cannot leave UK because of travel restrictions or self-isolation
Date of Publication:
24 March 2020
Home Office announces that visas will be extended for those unable to return home as a result of the Covid-19 pandemic
24 March 2020
EIN
The Home Office announced today that visas will be extended for those currently unable to return home due to the Covid-19 pandemic.
In new guidance released today, the Home Office said: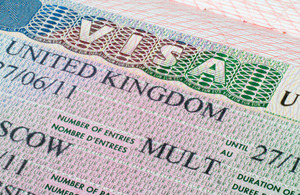 "If you're in the UK and your leave expires between 24 January 2020 and 31 May 2020
Your visa will be extended to 31 May 2020 if you cannot leave the UK because of travel restrictions or self-isolation related to coronavirus (COVID-19).
You must contact the Coronavirus Immigration Team (CIT) to update your records if your visa is expiring.
You should provide:
• your full name (include any middle names)
• date of birth (dd/mm/yyyy)
• nationality
• your previous visa reference number
• why you can't go back to your home country, for example if the border has closed
We'll let you know when your request is received and when your visa has been extended."
The Home Office added that a dedicated Covid-19 immigration team has been set up within UK Visas and Immigration (UKVI) with the aim of making the process as straightforward as possible.
"Anyone in this situation just needs to contact this team, via this email address CIH@homeoffice.gov.uk, to let them know their visa has expired and they will be issued with an extension," a Home Office press release stated.
Home Secretary Priti Patel said: "The UK continues to put the health and wellbeing of people first and nobody will be punished for circumstances outside of their control. By extending people's visas, we are giving people peace of mind and also ensuring that those in vital services can continue their work."
In addition, the Home Office said it is also waiving a number of requirements on visa sponsors, such as allowing non-EU nationals here under work or study routes to undertake their work or study from home.
The Immigration Law Practitioners' Association (ILPA) said in response to today's new visa guidance: "It is immediately apparent that the guidance is not adequate, nor does it address our list of coronavirus issues as submitted to the Home Office on Saturday. In light of the volume of queries we are currently receiving, the vast majority of which are covered in the submitted list, we ask that members please hold off on sending us further correspondence on this until we ask for further feedback. We will contact the Home Office urgently to ask what steps they are taking in relation to the issues identified on our list, and we will update members once we hear anything further."