Summary:
New graduate route will start with 2020/21 intake of students and will not be capped or restricted by skills
Date of Publication:
13 September 2019
Government announces the return of the two-year post-study work visa for international students
13 September 2019
EIN
The Government announced on Wednesday that a new 'Graduate Route' visa will allow international students to stay in the UK to work, or look for work, for two years after completing their studies.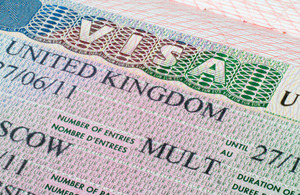 The new route will launch for the 2020/21 intake of students to university.
BBC News noted that the move reverses a decision made in 2012 by then-Home Secretary Theresa May to close the similar 'post study work route', which allowed students two years to seek employment after their course ended.
The Government said, however, that the new Graduate route, unlike the route which closed in 2012, will also include safeguards "to ensure only genuine, credible students are eligible".
Times Higher Education (THE) quoted the Department for Education as saying: "The new immigration route will be available to international students who have successfully completed a course in any subject at undergraduate level or higher at a higher education provider with a track record of compliance, and have Tier 4 [student visa] leave at the point the route is introduced."
Speaking after the Government's announcement on Wednesday, Home Secretary Priti Patel explained:
"The new Graduate Route will mean talented international students, whether in science and maths or technology and engineering, can study in the UK and then gain valuable work experience as they go on to build successful careers.
"It demonstrates our global outlook and will ensure that we continue to attract the best and brightest."
Education Secretary Gavin Williamson said:
"It is a testament to our world-leading universities that so many students from abroad want to study here. The important contribution international students make to our country and universities is both cultural and economic. Their presence benefits Britain, which is why we've increased the period of time these students can remain in the UK after their studies.
"Our universities thrive on being open global institutions. Introducing the graduate route ensures our prestigious higher education sector will continue to attract the best talent from around the world to global Britain."
According to the Guardian, under the new policy, there will be no cap on visa numbers and graduates will be able to apply for jobs regardless of their skills or the subject they studied.
Universities UK welcomed the announcement, with Chief Executive Alistair Jarvis calling it very positive news.
"The introduction of a two-year post-study work visa is something Universities UK has long campaigned for and we strongly welcome this policy change, which will put us back where we belong as a first choice study destination. Not only will a wide range of employers now benefit from access to talented graduates from around the world, these students hold lifelong links with the UK with a recent study showing 77% of graduates want to retain business links with us and 88% would return for tourism," Jarvis added.