Summary:
Albanian government officials say today's report in The Sun is completely untrue
Date of Publication:
03 October 2021
News reports that UK will open offshore asylum seeker processing centre in Albania are dismissed as 'fake news' and 'absolutely untrue'
03 October 2021
EIN
An article in The Sun today indicating that Albania will be hosting an offshore processing centre for asylum seekers entering the UK has been dismissed by Albanian government officials as being absolutely false.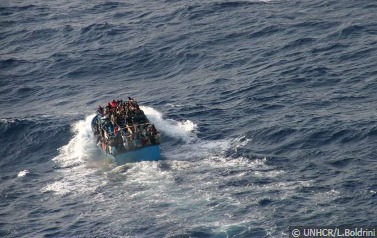 The Sun reported that asylum seekers crossing the Channel in small boats and entering the UK without permission would be flown to an offshore hub in Albania where their claims would be processed.
According to the article, the UK and Albania are "close to striking a deal" on the processing centre. An unnamed "insider" told The Sun: "The Home Secretary has made it clear she wants this to happen. Negotiations are at a technical stage. We are now down to the fine details such as precise location and numbers."
Albanian government officials said, however, that The Sun's report was completely untrue.
Olta Xhaçka, Albania's Minister for Europe and Foreign Affairs, posted on Twitter: "So embarrassing the fake news spreading in the British media about an 'offshore hub in the Balkans' namely in Albania to 'detain migrants crossing Channel from France'. Albania will proudly host 4000 afghan refugees based on its good will, but will never be a hub of anti-immigration policies of bigger and richer countries. We have instructed our Embassy in the UK to demand the retraction of this fake news."
The Albanian Prime Minister's Director of Communications, Endri Fuga, had earlier taken to Twitter to dismiss the report in The Sun as being "absolutely untrue".
The UK's new Nationality and Borders Bill proposes legislation to allow asylum seekers to be removed from the UK to a third country whilst their asylum claim is pending. Denmark passed similar legislation in June.
The Times reported in June that the UK had been holding talks with Denmark over setting up a shared overseas centre for processing asylum seekers, with speculation that the centre could be located in Africa.
As we reported on EIN in August, however, the African Union condemned the Danish legislation in the strongest terms possible, saying it amounted to "responsibility and burden shifting" and criticising European attempts to extend border control to African shores as "xenophobic and completely unacceptable".
The United Nations High Commissioner for Refugees (UNHCR) has spoken out strongly against the UK and Denmark's reported plans, but said that it was not expected that the plans would be able to be implemented given the difficulty finding countries willing to be partners.
Paul James Cardwell, Professor of Law at the University of Strathclyde, said on Twitter in June: "[These] ideas are floated fairly regularly (by the UK and the EU) and usually result in rebuttal by any country mentioned as a potential 'host'. Idea quietly dropped and then resurfaces when there is a perceived need to get 'tough' on an invisible minority."