Summary:
FOI data reveals over 33,000 asylum seekers were waiting over a year for a decision in 2020
Date of Publication:
05 July 2021
Refugee Council documents steep rise in number of asylum applicants waiting for an initial decision
05 July 2021
EIN
The number of asylum seekers in the UK waiting for more than a year for an initial decision on their asylum application has increased almost tenfold in ten years, the Refugee Council said in a report released on Friday.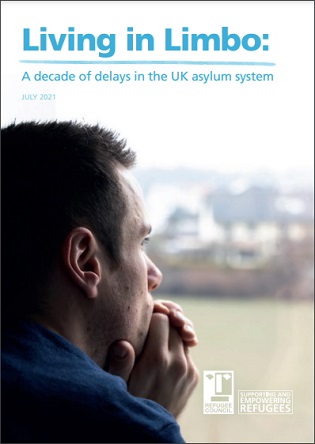 Living in Limbo: A decade of delays in the UK asylum system can be read here.
Using data obtained from Freedom of Information (FOI) requests, the Refugee Council found that the number of people awaiting an initial decision for over a year went from 3,588 in 2010 to 33,016 in 2020.
Other findings include that the number of people awaiting an initial decision from the Home Office was at its highest for over a decade at the end of March 2021, as were the numbers waiting for more than 6 months. The percentage of cases that had an initial decision within 6 months fell from 87% in 2014 to just 20% in 2020.
The Refugee Council called the figures "staggering" and said the FOI data paints a disturbing picture of the scale of the backlog and the length of time people have been left living in limbo whilst they await an initial decision on their asylum case.
The report looks at the scale and the causes of the backlog, noting that the backlog fell in 2015, but then saw a very sharp increase from 2018.
The report notes: "The data … shows that of the applications made in Q2 (April- June) 2014, 87% had an initial decision within six months. This figure then started to steadily decline, before dropping sharply in 2018, with the most recent data showing that only 20% of applications made in Q3 2020 were given an initial decision within six months. Whilst we would expect this figure to drop in 2020 as a result of the global pandemic, it is clear that the percentage of applications that had an initial decision within six months has been in decline for some time and actually halved during the course of 2018."
While the fluctuating number of Home Office casework staff is normally a key factor in the increase/decrease of the backlog, the Refugee Council found the exception to this appears to be in 2019/20. By then, casework staff had increased to a record level of 597, but the backlog continued to rise.
"It is difficult to extrapolate the reasons behind this as it may well be due to staff turnover and the recruitment of new caseworkers who would quite rightly have lower productivity than experienced caseworkers. The decrease in productivity could also be due to a shift towards focussing on more complex cases, which would be expected to take longer to determine. It is notable that a single caseworker was on average carrying out 18 interviews/decisions each month in 2015/16 and that this had fallen to an average of 7 interviews/decisions in 2019/20. Further work needs to be undertaken to understand why this is the case, which would need to take into account the quality of decisions, as well as other initiatives and influencing factors", the report explains.
The Refugee Council report also considers the human impact of the backlog. It notes: "The backlog has a devastating impact on the mental health and wellbeing of people who are forced to live in limbo not knowing when their asylum case will be decided. During this time, most people seeking asylum live on just over £5 a day, are not permitted to work, and are accommodated and supported in a system that was never designed to be used over the long term. The Refugee Council sees this first hand through our frontline advice and therapeutic services for adults and children. It is common for us to see people become increasingly unwell as the years of uncertainty, poverty, and de-skilling erodes their mental and physical health due to the delays to their case. In some cases it leads to self-harm and suicidal thoughts."
The Refugee Council says the toll of living in a protracted state of limbo is "damaging, cruel and unjust" and cannot be understated.
Enver Solomon, CEO of the Refugee Council, added that it is an incredibly inefficient, ineffective and unfair way to operate a refugee protection system.
"We need a system that works by making timely decisions and ensures everybody in need of safety gets a fair hearing. Competence and compassion are what matters. Instead the government's asylum reforms are likely to lead to even longer waits with even more people condemned to years of worry and uncertainty," Solomon commented.
The Home Office said in response to the report: "We are working to streamline cases and have already made significant progress in prioritising those with acute vulnerability but we are determined to clear the backlog to help speed up decisions and prevent people remaining in the system for long periods of time."