Summary:
Scheme launched to ease pressure on Kent and Croydon councils as unaccompanied children numbers top 4,000
Date of Publication:
05 July 2016
New Home Office scheme aims for more even regional distribution of unaccompanied child asylum seekers
05 July 2016
EIN
Immigration Minister James Brokenshire announced last week that the Government has launched a new voluntary transfer arrangement between local authorities for the care of unaccompanied child asylum seekers.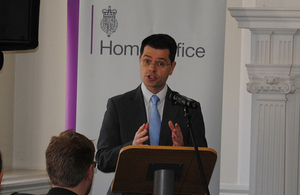 The Home Office says the new National Transfer Scheme aims to encourage a more even distribution of unaccompanied child asylum seekers across the UK.
Under the scheme, a child arriving in one local authority area already under strain caring for unaccompanied asylum seeking children may be transferred to another council with capacity.
Immigration Minister James Brokenshire said: "The UK has a proud tradition of offering sanctuary to all those in need of protection, including vulnerable asylum-seeking children and ensures their welfare and safety is at the heart of every decision made. This scheme has been established to promote a fairer distribution of caring responsibilities across the country in a way that protects the best interests of those children.
"Local authorities have been tremendously generous in caring for migrant children, and we hope many more will come forward and share this important responsibility. We will continue to work closely with local authorities, devolved administrations and our other partners to implement this scheme, which will support councils such as Kent and Croydon who are caring for high numbers of unaccompanied asylum-seeking children (UASC)."
Home Office guidance for the interim national transfer protocol for unaccompanied asylum-seeking children is available here.
The Guardian reported in April that the number of unaccompanied child refugees in Britain had reached over 4,000, with many concentrated in Kent and Croydon.
According to the Guardian, Government ministers said they hoped the planned national dispersal scheme would avoid a repeat of the situation in Kent last summer when the county council struggled to cope with the numbers arriving as the European refugee crisis intensified.
A dramatic rise of up to 60% in the numbers of unaccompanied children seeking asylum in Kent since last year created enormous pressure on local authorities finding placements and accommodation, the Guardian noted.
Meanwhile, the Economic and Social Research Council-funded project Becoming Adult yesterday published a report on unaccompanied asylum seeking children in England.
You can read it here.
The report's key findings are as follows:
• Increasingly children are accommodated outside the local authority with statutory responsibility to support them
• Receiving local authorities are rarely informed of these transfers and keep no record of unaccompanied minors placed from other LAs
• Figures of missing children from Local Authorities do not match the one provided by the Home Office.
• Definitions of 'missing' children vary considerably across England casting doubt on the comparability of data across local authorities
• Data on care leavers are extremely patchy and inconsistent across Local Authorities. As a result, little is known about what happens to young people after they reach 18 years old.