Summary:
Gary McIndoe remembers the life and work of Gail Elliman, a former chair of EIN, who sadly passed away on October 19th
Date of Publication:
30 October 2014
In memory of Gail Elliman
30 October 2014
By Gary McIndoe, Chair of EIN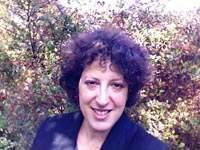 Gail Elliman, who has died aged 53 after living with cancer since 2011, was of an increasingly rare breed: a holder of judicial office who held the respect of all parties to the appeals and inquests she heard, who treated appellants and witnesses with respect, and whose personality and decisions were suffused with a deep sense of fairness and compassion.
I met Gail when she interviewed me for a position with what was then UKIAS, at County House in SE1 in 1993. I was 6 months out of law school, and was struggling to find paralegal work. Together with her then boss and close friend for many years, Shindo Maguire, Gail gave me a chance in the organisation's advice unit, warning me of the sessions that would inevitably overrun into the early evening.
Following the schism with what became the Refugee Legal Centre, Gail found her niche in the IAS Tribunal Unit, where she and colleagues such as Richard McKee and Lanre Adio handled appeals from adjudicator decisions to the IAT, mainly at Thanet House on the Strand. Trained as a barrister, Gail chose not to practice privately, thriving instead in the burgeoning field of immigration and asylum appeals during the 1990s. Geoffrey Care comments that Tribunal members held Gail in extremely high regard, with her knowledgeable, pragmatic approach to advocacy.
I returned north, working with IAS in Leeds and Manchester before going into private practice. Gail and I remained in touch, and we trained (together with others such as Jane Aspden and George Brown) on the fondly-remembered ACT Project, an LSC-supported intensive training course for would-be immigration practitioners. The week-long course gave delegates a solid grounding in the field, and a lot of lawyers now prominent in our field have the ACT Project to thank for the foundations of their knowledge.
Gail was appointed a fee-paid Immigration Judge in 2000, and she embraced the role. Her years of advocacy experience in this specialist tribunal had of course instilled in her significant knowledge and authority. What it had also given her was a deep sense of humanity and justice, which shone through her determinations over the next 14 years. Gail understood the challenges faced by appellants challenging State decisions; HOPOs may have labelled her soft at times, but what this fails to appreciate is that Gail's knowledge of immigration law was compendious, and she applied it fairly. She pretty much always knew more than those in the room with her. Her background imbued her with a deep understanding of the history of immigration law and practice, and she used that knowledge wisely.
Gail later became involved in training for the judiciary, and wrote an immigration law text for the Institute of Legal Executives. She was appointed an assistant coroner in 2005, holding 4 coronial posts at the time of her death. She was equally liked and respected by staff and judges in that jurisdiction. Her partner Ian has shown me a letter sent to Gail on 9th October by a colleague at St Pancras Coroner's Court, which reads thus:
"Coming to work on a day when you are sitting is an absolute pleasure. You tick all the boxes, intellectually, as a coroner, as a manager and all-round good egg. Love of music, fine wine and classy clobber – perfect. And a humanitarian – first class. As one of your family witnesses [the father of a teenage girl murdered by her partner] said at St Pancras, 'You're a f***ing proper judge'"
Gail was a socialist, an atheist and perhaps above all a feminist. Her voluntary work included chairing EIN for several years, another area in which Gail has led and I have followed. She was trustee of a women's refuge close to her home in Forest Gate. Her personal views informed her decisions, rather than coloured them. She was a strong advocate of the gender guidelines produced by the Tribunal for the first time in the early 90s, and her decisions in cases involving gender persecution and social group were particularly courageous.
She liked some pretty obscure jazz and soul music; I can thank her for introducing me to the delights of Daptone records and the Brooklyn Funk Essentials. Her Sheffield upbringing, the daughter of the manager of the Crucible Theatre in the city, gave her a deep love of the theatre.
Gail is survived by Ian, her mum Sonia and her sisters Jackie and Roz. Her wish for a ritual-free death has been respected by her family; no memorial event is planned. Ian has told me that if those she knew wish to mark her life in some way, that would be fine, but Gail would have drawn the line at poetry readings. Possibly a eulogy like this goes beyond what Gail wanted, but I make no apologies. The field of immigration and asylum practice has lost a singular figure.