Summary:
Reports on Home Office response to 'lorry drops' and small boat arrivals, UK refugee resettlement schemes, and use of language services in asylum process
Date of Publication:
11 November 2020
Independent Chief Inspector of Borders and Immigration releases three new inspection reports
11 November 2020
EIN
The Independent Chief Inspector of Borders and Immigration, David Bolt, today published three new inspection reports.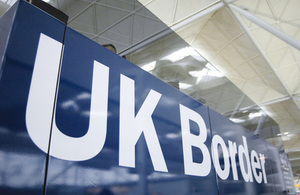 The 95-page An inspection of the Home Office's response to in-country clandestine arrivals ('lorry drops') and to irregular migrants arriving via 'small boats' is available here.
As noted by the Independent Chief Inspector, the report was sent to the Home Office eight months ago but has only now been published.
The inspection focused on the efficiency and effectiveness of the measures the Home Office has put in place to respond to small boat arrivals and lorry drops, including:
an overview of efforts by Border Force to prevent clandestine departures from the European mainland, including through support and encouragement for European law enforcement and border security measures
the current response to 'lorry drops', including a review of the recommendations from the 2016 inspection report: "A short notice inspection of the Home Office response to 'lorry drops'"
the response, since late 2018, to the arrival of migrants in small boats, including the impact on other previously planned activities and priorities
contingency plans for dealing with a surge in arrivals either via lorry drops or small boats or both
Bolt said: "Overall, up until March 2020, there were no signs of the threat of clandestine entry reducing and recent evidence pointed in the other direction. While the Home Office had shown some agility in marshalling and reprioritising resources in response, it is hard to avoid the conclusion that it has neither the capacity nor the capabilities, in particular in respect of criminal investigation and prosecution, required to manage this threat more effectively.
"I have made five recommendations. These touch on skills, organisation and processes, partnership-working, data and analysis, and staff management. None offers a 'quick fix', nor do they seek to address wider questions of 'pull factors' and calls for more legal and safe routes, which were not the focus of this inspection."
The Independent Chief Inspector added that he took some encouragement from the Home Office's response to his report: "This refers to the actions it has already taken, including the appointment of a Clandestine Channel Threat Commander to lead on clandestine entry. It also identifies an extensive body of work that is in hand in the department and with partner agencies. The latter will require significant ongoing commitment and effort, but the present situation is unsustainable so there is no real choice if the improvements in operational capacity and capabilities needed to reduce organised immigration crime are going to be achieved."
The second report, the 120-page An inspection of UK Refugee Resettlement Schemes, can be downloaded here. Inspectors examined the Gateway Protection Programme, the Vulnerable Person's Resettlement Scheme, the Vulnerable Children's Resettlement Scheme, and the Community Sponsorship Scheme.
The inspection looks at how the schemes had performed up to March 2020 and considers the particular difficulties and issues each had encountered. It also considers what lessons the Home Office should be taking forward into any new scheme, including the new UK Resettlement Scheme (UKRS), scheduled for launch in 2020, but delayed due to Covid-19.
The Independent Chief Inspector found that Home Office staff working on refugee resettlement schemes were "knowledgeable, competent and highly committed".
David Bolt added: "It was clear that they all derived a great deal of satisfaction from helping vulnerable refugees. Operationally, every resettlement presents a host of challenges, the greatest of which is securing the required accommodation and support. Each arrival is therefore an achievement.
"Nonetheless, I found there was still considerable room for improvement, and a risk that the Home Office would roll into UKRS without confronting some of the fundamental concerns about the previous schemes, particularly the range of accommodation and support available and its impact on the time taken from acceptance of a refugee family to their resettlement in the UK."
Finally, the 107-page An inspection of the Home Office's use of language services in the asylum process is here.
The Independent Chief Inspector explained: "The inspection looked in particular at how well the language needs of asylum applicants were being met. However, the findings have a wider relevance. Past inspections, including most recently 'An inspection of the EU Settlement Scheme (April to August 2019)', have criticised the lack of foreign language versions of instructions and guidance, while Stephen Shaw drew attention to the importance of reliable interpreting services in his reviews of vulnerable adults in immigration detention.
"Previously, BICS [Borders, Immigration and Citizenship System] has often seemed slow or reluctant to accept that some of the individuals it encounters, including some of the most vulnerable, will not have sufficient command of English to understand clearly and precisely their rights and obligations unless they are translated into their own language. I am therefore pleased that it has accepted all three of my recommendations.
"The Home Office has got a good deal of work to do to improve its use of language services. This needs to be tackled strategically and in a coordinated way rather than piecemeal. Some things need urgent attention, but others will take time and effort. However, getting this right is essential to BICS operating efficiently and effectively and providing its 'customers' with the quality of service they are entitled to expect."
The Home Office's responses to the three reports can be accessed from here.