Summary:
Refugee Council says Sajid Javid's latest comments are "deeply disturbing"
Date of Publication:
02 January 2019
Home Secretary faces fresh criticism after questioning whether asylum seekers crossing the Channel are genuine
02 January 2018
EIN
After criticism last week over his declaration that an increase in asylum seekers crossing the English Channel was a 'major incident', the Home Secretary faced further criticism today after he questioned whether the asylum seekers were genuine.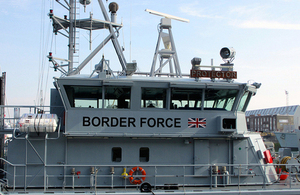 Sky News quoted Sajid Javid as saying during a visit to Dover today: "A question has to be asked: if you are a genuine asylum seeker why have you not sought asylum in the first safe country that you arrived in? Because France is not a country where anyone would argue it is not safe in anyway whatsoever, and if you are genuine then why not seek asylum in your first safe country?"
He continued: "Also if you do somehow make it to the UK, we will do everything we can to make sure that you are often not successful because we need to break that link, and to break that link means we can save more lives."
The Refugee Council said in a statement that Sajid Javid's comments were "deeply disturbing".
Dr Lisa Doyle, Director of Advocacy at the Refugee Council, said: "The comments made by the Home Secretary today are deeply concerning. The outcome of an asylum application cannot be pre-judged before it has been made and must be processed on its individual merit, irrespective of how that person reached the country."
Doyle added: "Let us not forget that we are talking about people who are in desperate need of protection, having fled countries with prolific human rights abuses. What is more, we are hearing time and again that the conditions in France do not make people feel safe, with migrant camps being razed from the ground and people experiencing violence from the authorities. It's a shame that the Home Secretary seems to need reminding that seeking asylum is a right and the UK has an obligation to assess claims fairly and grant protection to those who need it."
Refugee Action issued a response to Javid's comments that said: "These are people first and foremost and they deserve a humanitarian response. We need an approach built on compassion and we hope the Home Secretary will demonstrate that in his words and actions in the coming days and weeks."
The shadow Home Secretary, Diane Abbott, posted on Twitter: "It is not for Sajid Javid to claim that asylum seekers may not be genuine. He cannot know. We have a system for determining that."
In strong criticism posted on Twitter, Labour MP Stella Creasy called the Home Secretary's comments "utterly disgusting" and accused him of normalising "anti refugee rhetoric".
The Guardian spoke to Garden Court's Colin Yeo, who said: "Sending genuine refugees to face persecution in order to dissuade others from seeking to come here is plainly illegal. I imagine the Home Secretary knows this, but if so it is depressing that he is still saying it as a way of trying to make himself sound tough. The latest asylum statistics show that around three-quarters of Iranian asylum claims succeed, so we are talking here about genuine refugees."
In a detailed post on his Free Movement website today, Yeo explains that refugees are not obliged to claim asylum in the first safe country they reach.
Yeo concludes: "[T]here is no obligation on refugees to claim asylum in the first safe country they reach, although many in fact do. The UK receives a tiny number of refugees compared to other countries in the EU and beyond. There are multiple reasons why refugees might want to move on from refugee camps or travel to find family members or better prospects. If they do so, and would face a well founded fear of being persecuted in their home country, they are still refugees."