Summary:
Updated guidance on inadmissibility, new equality analysis, and four new country information reports published
Date of Publication:
10 May 2022
Home Office publishes batch of important new documents with further details on policy of relocating asylum seekers to Rwanda
10 May 2022
EIN
The Home Office last night published a number of important new documents relating to the new migration partnership with Rwanda.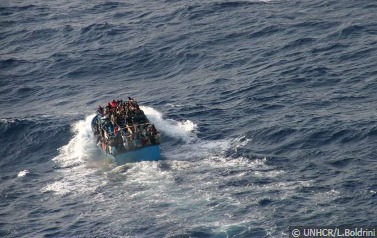 Updated guidance on inadmissibility provides details of how the policy of relocating asylum seekers to the East African country will work and who will be eligible for relocation. The 30-page guidance is here.
Four new country reports, accessible from here, look at the asylum system and the general human rights situation in Rwanda.
A 16-page equality analysis is available here and assesses how the migration partnership may affect groups with particular protected characteristics.
The Home Office's updated inadmissibility guidance explains: "In broad terms, the [Immigration] Rules allow asylum claims to be declared inadmissible and not substantively considered in the UK, if the claimant was previously present in or had another connection to a safe third country, where they claimed asylum or could reasonably be expected to have done, provided there are reasonable prospects they can be removed in a reasonable time to a safe country. Additional to the inadmissibility policy, the UK has entered into the Migration and Economic Development Partnership (MEDP) with Rwanda. In this first stage of applying the policy, removals of individuals from the UK in accordance with the MEDP are intended to deter people from making dangerous journeys to the UK to claim asylum, which are facilitated by criminal smugglers, when they have already travelled through safe third countries. In particular, but not exclusively, this is aimed at deterring arrivals by small boats."
The Home Office says that asylum seekers who arrive in the UK after 9 May 2022 will be given priority for possible relocation to Rwanda.
Further details are given in the inadmissibility guidance as follows:
"If a case assessed as suitable for inadmissibility action appears to stand a greater chance of being promptly removed if referred to Rwanda, (a country with which the UK has a Migration and Economic Development partnership (MEDP), rather than to the country to which they have a connection, [the Home Office Third Country Unit] should consider referring the case to Rwanda. An asylum claimant may be eligible for removal to Rwanda if their claim is inadmissible under this policy and (a) that claimant's journey to the UK can be described as having been dangerous and (b) was made on or after 1 January 2022. A dangerous journey is one able or likely to cause harm or injury. For example, this would include those that travel via small boat, or clandestinely in lorries. Where there are multiple possible safe countries of removal, including Rwanda, and individual referrals are to be made, they should generally be done simultaneously rather than sequentially …. This is to avoid unnecessary delay in securing agreement for the claimant's removal and to minimise time in detention (if the claimant is detained). Those progressed for consideration for relocation to Rwanda under the MEDP will be taken from both the detained and non-detained cohort and be identified in line with processing capacity. Priority will be given to those who arrived in the UK after 9 May 2022. Anyone under consideration for relocation to Rwanda, whether detained or non-detained will have this confirmed to them specifically in their Notice of Intent."
The guidance adds that the notice of intent will state: "We may also ask Rwanda, another country we consider to be safe, whether it would admit you, under the terms of the Migration and Economic Development Partnership between Rwanda and the UK."
In its separate equality impact assessment, the Home Office says that only unaccompanied children will not be in scope for removal to Rwanda. It states: "Everyone who arrives in the UK via dangerous and unnecessary routes and are inadmissible to the UK asylum process are potentially eligible for relocation. This excludes Unaccompanied Asylum-Seeking Children (UASC) who cannot be deemed inadmissible. There is therefore, apart from the narrow exception of UASC, no direct discrimination in how the policy will operate."
The equality impact assessment also says there will be "ongoing monitoring of the end-to-end operation under the Memorandum of Understanding (MoU) between the UK and Rwanda on the relocation of asylum seekers which provides assurance that each individual and their claim will be treated in accordance international standards."
The Home Office's new report on the asylum system suggests that Rwanda currently has a very limited capacity for deciding claims. Figures from the United Nations High Commissioner for Refugees (UNHCR) show the number of decisions taken on asylum claims for the years 2017 to 2020 range from a low of only 32 cases in 2017 to a high of 307 cases in 2019.
Rwandan government officials told the Home Office that an appeals process is open for every claim and can ultimately proceed to the country's High Court. However, the figures provided by the Rwandan government for the year 2019 show there were only 24 appeals in total and there were no appeals to the High Court. Rwandan officials said a new law introduced last year will increase the rights of applicants to appeal to the High Court.
Legal representation and legal aid for asylum seekers is lacking in Rwanda, with the Home Office report noting that only 77 asylum seekers received free legal aid between 2015 and 2020.
The Home Office's equality impact assessment says the UK will fund the costs of processing the asylum claims of each individual relocated to Rwanda, which includes the costs of caseworkers, access to legal advice and translators.
Critics have said the UK Government has raised unrealistic expectations about the potential scale of the Rwanda policy.
The Times reported this week that modelling by Home Office officials suggested that only around 300 asylum seekers would be relocated to Rwanda each year, despite the Prime Minister claiming "tens of thousands" would be sent.
In an editorial, The Times said the policy was a "dead end" and it was a mistake to oversell and under-deliver.
"The danger for Mr Johnson is that he has raised expectations with a policy that has significant support among a substantial portion of the electorate. But if the policy turns out to fail in the courts and anyway be modest in ambition, it will rebound on the credibility and competence of the government," The Times said.
Garden Court's Colin Yeo called the policy "a distraction from the real issues in the asylum system" in a piece on Free Movement yesterday. He said the theory of the policy is unlikely to match the reality, and it does not look like good-faith governance or a genuinely effective way of managing an asylum system.
Yeo said: "[T]he government plans to remove an unspecified number of genuine refugees to Rwanda. Whether the removal of significant numbers is really feasible is highly questionable. Aside from the considerable moral objections and legal obstacles, the Home Office has a very poor record of removing any asylum seekers at all anywhere. … The number of enforced removals and voluntary departures of failed asylum seekers are both at a record low, down from a peak of around 20,000 in 2005 to mere hundreds today. Rather than focussing energy and resources on removing the minority of failed asylum seekers back to their countries of origin, the government plans to remove an unspecified number of predominantly genuine refugees to Rwanda."
Lewis Mudge, central Africa director at Human Rights Watch, told the Independent that the Home Office's new documents on Rwanda were "not grounded in reality" and showed "serious wishful thinking".
Mudge was quoted as saying: "They seem to change the facts in order to justify a pre-ordained conclusion. … The Rwandan government has an abysmal record when it comes to guaranteeing internationally recognised refugee rights, statues and protocols. It's difficult to imagine a less genuine assessment Rwanda's shocking human rights record."
Tom Pursglove MP, the Minister for Justice and Tackling Illegal Migration, will tomorrow morning give evidence to Parliament's Home Affairs Committee on the Rwanda partnership. The Committee will question Pursglove on the practical arrangements for transferring asylum seekers to Rwanda and ongoing oversight of operations. You can watch the session here at 10am tomorrow.