Summary:
Care workers added to shortage occupation list, Seasonal Worker visa extended until end of 2024
Date of Publication:
27 December 2021
Home Office announces new Immigration Rules changes for social care and agricultural visas in response to worker shortages caused by Covid and Brexit
27 December 2021
EIN
The Home Office announced on Christmas Eve that new temporary changes to the Immigration Rules will see care workers added to the Shortage Occupation List.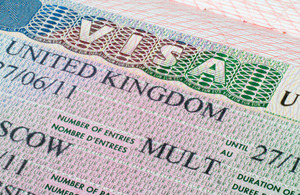 The temporary measures are due to come into effect in early 2022 and will be in place for at least 12 months.
In a press release, the Home Office said: "Thousands of additional care workers could be recruited to boost the adult social care workforce … The coronavirus pandemic has highlighted a range of staff shortages within the social care sector, placing pressures on the existing workforce, despite the incredible and tireless efforts of social care staff."
Carers will require an annual salary minimum of £20,480 to qualify under the Health and Care visa route. Those recruited will be able to bring their dependents, including partner and children, to the UK. The route also offers a pathway to settlement in the UK if workers remain employed.
The decision to add care workers to the Shortage Occupation List was taken following a recent recommendation by the Migration Advisory Committee (MAC). As reported by BBC News earlier this month, the MAC said the care sector is facing "severe and increasing" problems hiring and retaining staff after Brexit.
The MAC warned in its annual report: "The sector's labour shortages have serious consequences for potential care recipients with the number of people receiving long-term care falling since 2015/16, despite the increase in the number of requests for adult social care services. If these trends continue, more people will likely miss out on vital care."
The Daily Mirror reported in November that 97% of care workers said their care homes were now suffering from staff shortages, while the Association of Directors of Adult Social Services (ADASS) warned last month that the demand for home care services could not be met due to a workforce crisis.
The Overseas Development Institute (ODI) noted last month that migrant workers are incredibly important for the care sector, making up 22% of the workforce in 2020/21. The ODI said staffing shortages in the sector are a sign of things to come and are only going to get worse, meaning the UK needs to attract migrant workers as part of the solution to the challenges.
Worker shortages were also behind another visa announcement made by the Home Office on Christmas Eve.
The Home Office and the Department for Environment, Food & Rural Affairs (DEFRA) announced that the agricultural Seasonal Worker visa route will be extended until the end of 2024. Under the route, foreign workers can come to the UK for up to six months to pick crops.
Tom Bradshaw, the vice president of the National Farmers' Union (NFU), welcomed the announcement and noted: "With labour shortages so rife across the entire food supply chain, we will continue to monitor the situation closely and continue to engage with the Government on the sector's needs."
According to the Home Office and DEFRA, there will be 30,000 Seasonal Worker visas available in 2022, but this will be kept under review and could increase to 40,000 if necessary.
From 2023, it is planned that the number of visas available will be reduced. The Government says this is needed as more must be done to attract UK workers through offering training, career options, wage increases and to invest in increased automation technology.
Earlier this month, Neil Parish MP, the chair of Parliament's Environment, Food and Rural Affairs Committee, was critical of the Home Office response to worker shortages in the agricultural sector.
Parish said: "Labour shortages in the food and farming sector have caused a human and animal welfare crisis. But the Home Office is simply not listening. It is not supplying enough visas for foreign workers in a timely, efficient manner. Employers need workers and cannot get them in time. Pigs are being culled and wasted because there are not enough butchers in the abattoirs. Fruit is rotting on trees and crops are not being planted."
The Committee was taking evidence from Kevin Foster MP, Parliamentary Under-Secretary of State at the Home Office.
An exasperated Neil Parish commented: "We are seeing our industry slowly being destroyed: 25% less vegetables planted; 12.5% less poultry being produced. I thought Brexit was about encouraging production in this country, not discouraging it."
Parish said to Kevin Foster: "Why do you not take it more seriously, rather than just having your blasted processes that you have in the Home Office that take forever, and you prevaricate and prevaricate and the situation gets worse? It is no wonder the industry gets so worked up over where you are. I was expecting you at least to come in here and have some element of, 'We may have made some mistakes and we may not have listened when we should have done', but instead you come in here as though everything is right in what you have done, and I would say to you quite clearly it is not."
While the Home Office has introduced a number of visa changes this year to help with worker shortages, Kevin Foster told the Committee that some have not been a success. Foster said less than 100 pork butchers have applied despite 800 visas being made available, and only a couple of hundred HGV driver visas had been taken up out of the 5,000 visas made available.
Foster said when pressed: "I am concerned that we launched a route in response to the sector saying it will recruit hundreds and we got dozens. I am concerned that we launched a route that the sector said will get thousands and we got a couple of hundred. Again, we also need to look at the reasons why."
Visas for poultry workers were more successful, however, with Foster noting that a couple of thousand had been issued out of the 5,500 available.