Summary:
Report finds much more needs to be done by accommodation providers and Home Office to prevent the virus spreading
Date of Publication:
31 July 2020
Home Affairs Committee publishes report on Home Office preparedness for Covid-19 with regard to asylum accommodation
31 July 2020
EIN
Parliament's Home Affairs Committee this week published a report on the Home Office's preparedness for Covid-19 with regard to asylum accommodation.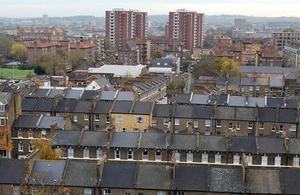 The 75-page PDF file is here or it can be read online here.
The Home Affairs Committee examined the provision of institutional accommodation by different private sector contractors during the pandemic as well as the policy decisions made by the Home Office.
The report states:
"During the lockdown period the Government has taken a series of sensible steps to safeguard those in institutional accommodation. Within the asylum system it has suspended evictions from Home Office accommodation while finding additional accommodation for new applicants for asylum; in June it provisionally increased the asylum support rate to £39.60 per week. We welcome these decisions.
"However, significant concerns have been raised about the management and suitability of institutional accommodation in light of the Covid-19 pandemic, and there are a number of areas where we believe the Home Office could have gone further, and where it must extend its approach during the next phase of the national response to Covid-19.
"It is deeply concerning that there was so little early access to testing for Covid-19 for asylum seekers housed in shared facilities, given the higher risk of spreading infection in accommodation where it is often difficult to self-isolate and where there are other residents who are shielding. The Government must urgently publish a clear policy on residential testing if there are outbreaks. This must be put in place immediately to ensure that accommodation providers are prepared for all potential scenarios in the next phase of the pandemic.
"We are appalled at reports that service users in some accommodation centres were not universally provided either with laundry facilities, cleaning products, soap and sanitiser, or with financial support to enable them to access these essentials. It is difficult to conceive of any provision which is more fundamental to public health during the pandemic. The Home Office must immediately take steps to ensure these essentials are provided to all service users, and accommodation providers must urgently put in place measures to enable greater social distancing and effective hygiene practices in all shared facilities."
Yvette Cooper, the chair of the Home Affairs Committee, said:
"During the first wave of the Covid-19 pandemic we have seen the devastating impact this virus can have and the heightened risk in shared accommodation and institutions. The threat from coronavirus hasn't gone away and more action is needed to prevent it spreading in institutional accommodation and to protect the physical and mental health of those in both asylum accommodation and immigration detention."
Cooper added that much more needs to be done by housing providers and the Home Office to make sure that there are safeguards in place to prevent the virus spreading within asylum accommodation.
"Our report found that many of the measures the Home Office took on asylum accommodation and immigration detention at the beginning of the crisis to reduce the risk of infection spreading were sensible - but that more still needs to be done to keep individuals and communities safe as the threat of coronavirus hasn't gone away," Cooper said.
The report recommends that the Home Office should conduct a full review of its management of Covid-19 impacts on asylum accommodation and immigration detention in conjunction with its providers and other government departments.