Summary:
Court says high-profile Nigerian lesbian can be deported, agreeing with earlier Tribunal finding that her sexuality was fabricated, but case to now go to Court of Appeal
Date of Publication:
07 April 2015
High Court dismisses appeal against deportation by Nigerian LGBT rights campaigner Aderonke Apata
07 April 2015
EIN
In a judgment handed down last week, the High Court dismissed a public law and human rights challenge by the LGBT rights campaigner Aderonke Apata and found that she can be deported to Nigeria. Apata was challenging a removal order following two unsuccessful applications for asylum in 2004 and 2012. Apata's barrister, Abid Mahmood, today told EIN that the case will now go to the Court of Appeal.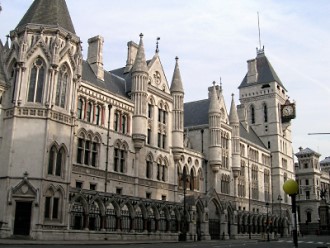 EIN members can read the judgment in the judicial review, Apata, R (On the Application Of) v Secretary of State for the Home Department [2015] EWHC 888 (Admin), here.
The case received considerable media attention, including here in the Telegraph and here in the Independent.
In particular, media attention focused on the Home Office's rejection of Apata's insistence that she is a lesbian. The Daily Mirror even ran a quiz asking "Does the Home Office think you're gay?".
Paul Dillane, director of the UK Lesbian and Gay Immigration Group (UKLGIG), expressed despair at the Home Office lawyer's arguments that Apata's children and her previous heterosexual relationships meant she couldn't be gay.
As Deputy High Court Judge John Bowers QC stated in yesterday's judgment, the First-tier Tribunal found in an "excoriating judgment" in 2012 that Apata had a history of deception and deceit and concluded that her lesbian sexuality was not genuine and had been fabricated in order to claim asylum. Judge Bowers stated at para 32 that he found it difficult to disagree with those conclusions. He accepted that Apata's same-sex relationships and her adoption of lesbian customs and dress were purely part of the fabrication to gain refugee status, thus she was not a member of a 'particular social group' entitled to protection.
"If I am wrong and she is to be treated as a member of a particular social group, I still do not accept that she has a well founded fear of persecution if returned given her willingness to return at a time when she was she said a lesbian," he continued, referring to Apata's stated wish to leave the UK following her failed asylum application in 2012.
Bowers did, however, reject the Secretary of State's argument that a person could not be a homosexual if they had had children or heterosexual relationships. "I do not accept this. Sexuality (or consciousness of sexuality) may alter over time and persons may realise that sexuality at different times," he stated.
Bowers also found that despite a history of mental health problems and a failed suicide attempt, Apata's medical issues were not such that deportation would be a breach of Article 3, nor would the case fall within Article 8, as her same-sex partner has said she would accompany her to Nigeria and her only surviving child lives in Nigeria.
Over 240,000 people have signed a petition calling for Apata to remain in the UK, saying she would face persecution if deported to Nigeria. A further petition gained over 60,000 signatures. The Secretary of State dismissed the campaign as a publicity stunt. While Bowers said such public support was very impressive, it could not amount to evidence in itself.
In concluding, Bowers quoted Lady Hale in Razgar [2004] UKHL 27: "… this is a field in which harsh decisions sometimes have to be made. People have to be returned to situations which we would find appalling. The United Kingdom is not required to keep people here who have no right to be here unless to expel them would be a breach of its international obligations. It does the cause of human rights no favours to stretch those obligations further than they can properly go."
Following the judgment, Apata's barrister, Abid Mahmood, today told EIN that Judge Bowers granted permission to appeal on ten separate grounds and therefore the case will now be considered by the Court of Appeal. Mahmood said permission to appeal was granted at the time of the handing down of the judgment, but is not referred to in the judgment because it is part of a separate order.
Apata told Politics.co.uk last month that she was prepared for death when she was almost deported to Nigeria in an earlier attempt.
"When I was taken to the airport I made up my mind I was going to die. There were emails that if I came back I'd be killed. I was taken to the Nigerian high commission to be given travel documents. They knew what my case was about. I knew I was going to be under the watch of the Nigerian government. I was looking at 14 years imprisonment. I was panicking," she said.
However, a last minute cancellation of the flight meant Apata was not deported.