Summary
New report says Immigration Rules leave up to 15,000 children able to communicate with one parent only via Skype
Date of Publication:
11 September 2015
The Children's Commissioner for England released a report on Wednesday looking at the impact on children of the minimum income requirement for partner visas in the Immigration Rules.
Under the rule which came into force on 9th July 2012, a British citizen needs to earn at least £18,600 per year (plus an extra £3,800 for one dependent child and extra £2,400 for each additional child) to apply for a partner visa.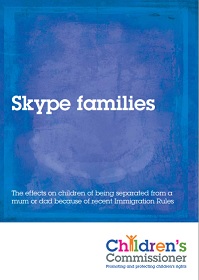 The Children's Commissioner released an in-depth 161-page report, Family Friendly? The impact on children of the Family Migration Rules: A review of the financial requirements, which you can read here, and a short 8-page discussion paper, Skype families, here.
The main report lists the following key facts:
• It is estimated that at least 15,000 children have been affected by changes to the financial requirements of the Immigration Rules implemented in 2012.
• Children, most of whom are British citizens (79% in the survey carried out for this report), are suffering distress and anxiety as a result of separation from a parent. This is compounded by the overall stress, anxiety and practical difficulties faced by the family unit.
• The financial requirements affect British citizens and long term residents who have started families with foreigners from outside the European Economic Area (EEA) and who wish to live in the UK. The income level would not be met by almost half the adult population and many families with children may never be able to meet them. The threshold is too high and is discriminatory. British citizens who have lived and worked abroad and formed long-term relationships abroad are particularly penalised and find it very difficult to return to the UK.
• The financial requirements do not meet their stated policy aims; they do not reduce reliance on the welfare state, the fiscal benefits are overstated and they do not promote integration and social participation.
• The Immigration Rules and accompanying guidance do not comply with the duty to safeguard and protect the best interests of all children in the UK. Several categories of children in the UK are not protected and the Rules as drafted breach national and international law.
• Decision-making routinely fails to adequately consider the best interests of children and decision letters are often legally and factually incorrect.
Anne Longfield, Children's Commissioner for England said: "There is a wealth of evidence which indicates that children are far more likely to thrive when they are raised by parents in a warm, stable and loving family environment and that is why I am a strong supporter of family-friendly policies."
"I am therefore very concerned that the Immigration Rules introduced in July 2012 actively drive families apart, and leave British children able to communicate with one parent only via Skype."
"Many of the children interviewed for this research suffer from stress and anxiety, affecting their well-being and development. It is also likely to have an impact on their educational attainment and outcomes because they have been separated from a parent, due to these inflexible rules which take little account of regional income levels or family support available."
"We are not talking about having unrestricted access but we need to put the heart back into this policy and consider the profound impact the rules have on this group of British children and their families."
The Government said when introducing the minimum income requirement that it considers that family migrants and their British-based sponsors should have sufficient financial resources to be able to support themselves and enable the migrant to participate in society without being a burden on the general taxpayer.