Summary:
Undercover investigation reveals racist, sexist and violent attitudes by guards at notorious immigration removal centre
Date of Publication:
02 March 2015
Channel 4 News investigation raises fresh concerns over Yarl's Wood immigration removal centre
02 March 2015
EIN
Channel 4 News will this evening at 7pm reveal shocking findings from an undercover investigation at the Serco-run Yarl's Wood immigration removal centre.
Channel 4 News says its investigation at the secretive detention centre reveals numerous incidents of self-harm, questions over standards of healthcare, and guards showing contempt for detainees.
The investigation reveals racist, sexist and violent attitudes by some guards.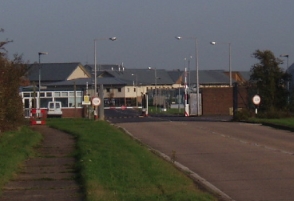 One guard is filmed saying of detainees: "They're animals. They're beasties. They're all animals. Caged animals. Take a stick with you and beat them up." Another says: "Headbutt the b**ch. I'd beat her up."
Channel 4 News also raised concerns over the G4S-run medical centre at Yarl's Wood, with once case highlighted in which a distressed, bleeding woman who had suffered a miscarriage the previous day was "spoken to" by staff because she was "refusing to wait her turn" to see the doctor and tried to ring the ambulance service herself. She was offered pain killers and told to come back two hours later, and it was four hours before a visiting midwife saw her and then called an ambulance.
According to Channel 4 News, the Home Office Minister Lord Bates last week told Parliament that there had been no serious incidents of self-harm at Yarl's Wood in the past two years, however, figures obtained through a Freedom of Information request show there were 74 separate incidents of self-harm requiring medical treatment in 2013 alone.
Channel 4 News says that while details of the incidents were not revealed, its investigation recorded one officer at Yarl's Wood saying: "They are all slashing their wrists apparently. Let them slash their wrists."
Writing in the Independent, Yasmin Alibhai Brown said the Channel 4 exposé shows how Yarl's Wood "shames Britain" and reveals "a system with brutality and callousness at its heart."
In the wake of the exposé, the Home Office said the "very serious and disturbing allegations … merit immediate scrutiny" and told Channel 4 News: "We expect Serco and G4S to conduct thorough and immediate investigations into all matters raised by this programme, and we will not hesitate to take whatever action we think appropriate in response."
Serco told Channel 4 News that former barrister Kate Lampard will "carry out an independent review into our work at Yarl's Wood" in response to the investigation.
Yarl's Wood has previously been at the centre of a number of allegations of sexual abuse of female detainees by male staff. In January, Women for Refugee Women released a report in detailing the humiliation and dehumanisation of those who are detained there.
Last month, Home Secretary Theresa May announced that an independent review will be carried out to examine the welfare of immigrants held in immigration detention centres.