Summary
Against Borders for Children says 'hostile environment' for migrants has no place in schools
Date of Publication:
02 November 2016
The campaign group Against Borders for Children yesterday welcomed the House of Lords passing a motion of regret against the Department for Education using schools to collect information on pupils' nationality and country of birth, as it could be used to help determine a child's immigration status.
Against Borders for Children said the motion sent "a clear signal that government efforts to create a 'hostile environment' for migrants are facing a concerted backlash, and that immigration enforcement has no place in our schools."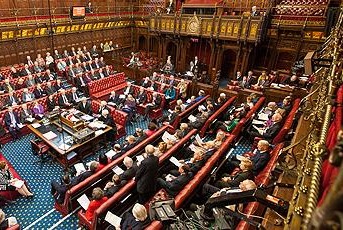 Image credit: UK GovernmentYou can read the Lords debate here. The Independent covered the debate here, whilst earlier articles here and here looked at controversy surrounding the new rules on collecting pupils' data. The original regulations, the Education (Pupil Information) (England) (Miscellaneous Amendments) Regulations 2016, are here.
As the Independent noted, the regulations require schools and colleges in England to collect information on pupils' nationality, place of birth and proficiency in English.
Against Borders for Children has encouraged all parents, pupils and school staff to exercise their legal right to boycott the census.
Speaking at the House of Lords debate on Monday, Lord Storey said the regulations had been "rushed through Parliament in the six-week summer holiday with no debate, no proper scrutiny or, indeed, public consultation."
He continued: "Against a backdrop of a massive increase in anti-immigration rhetoric … there is real concern among members of different ethnic groups about victimisation and being targeted.
"I am afraid that this proposal has all the hallmarks of racism, particularly as language codes are already recorded for pupils with English as an additional language, as are codes on their ethnic background. We have already seen the effects of this new requirement. It became a duty for schools to collect this information this September. Some schools have asked pupils to bring in their passports.
"In investigating the school census, Schools Week found classroom discrimination whereby only non-white children were being asked to bring in their passports to school. The Independent reported that where parents do not provide information, teachers will be asked to guess the ethnicity of pupils. Is it any wonder that children and young people have felt discriminated against and embarrassed in front of their peers? The Government may say that the guidelines state such and such, but that is a very different matter from practice in schools."
The Earl of Clancarty noted that two freedom of information requests and a Parliamentary Written Question uncovered that in the last 15 months alone, requests to a total of 2,462 pupils have been made by the Home Office, which he said contradicted Lord Younger of Leckie's earlier claim that such information is kept within the Department for Education and not passed on to the Home Office.
The Parliamentary Under-Secretary of State for Education, Lord Nash, sought to allay the fears expressed in the debate by saying the information will be used for educational purposes: "to understand how we can give all pupils a better education—one that caters to their individual needs. This is about children's needs first and foremost."
"The new information collected has not been and is not shared with the Home Office. The DfE has no way of determining a child's immigration status, nor would we seek to do so. Providing this information is entirely optional; parents can refuse to do so if they wish. This is clearly stated in our guidance," he said.
Lord Storey, however, was not convinced, saying: "the notion of saying to children, 'We want to know where you live and where you were born because at some time in the future we may provide some resources', just seems batty to me."
In putting the vote on the motion to the House, Lord Storey said while it would not have any effect on what has happened, "it is important that people stand up and be counted."
Against Borders for Children called on the Government to respect the Lords' vote and abandon the collection of nationality and country of birth data.
Ahead of the Lords debate, Bella Sankey, Director of Policy for Liberty, said: "The Government is starting to face a serious backlash against its poisonous 'hostile environment' policies. First ministers had to pull their misguided plans for foreign worker lists – now their creation of a foreign national children list could be thwarted too.
"In recent months we have seen migrant communities vilified and treated as bargaining chips. Instead of sowing yet more division and mistrust, we urge the Lords to uphold the safety and dignity of children and send a message to Government that this divisive and unnecessary policy must scrapped."