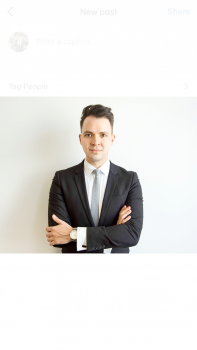 The Expert is a Legal Adviser with experience in Human Rights and International Law. As a Master of Laws and a Ph.D. candidate in Law, the expert is primarily focused in the protection of Human Rights in the international scenario, working with a wide variety of immigration and asylum matters. With practise both in Brazil and in the UK, the expert is skilled to deal with intricate issues and experienced in cases brought to the Supreme Court and to International Courts and aims to find trans and multi-disciplinary approaches involving Law, Critical Theory and International Jurisprudence.
His notable cases include the protection of vulnerable people and issues involving persecution on the basis of race, religious beliefs or sexuality (in which he specializes). He has a vast amount of previous experience with management of complex situations and as a legal representative of the U.S. American Bar Association for Human Rights. The expert has further enhanced his skills as a speaker, by taking part in speeches at Oxford University, United Nations Centre of Human Rights, and the International Red Cross in Iran. The expert has also published his first book in 2017,  and his first collaboration with the Law Society website in 2018.
Name
Gustavo Bussmann Bussmann Ferreira
Occupation
Immigration Lawyer – LGBTI+ Academic and Activist
Expertise
Extensive in-country experience in Brazil.
Conducted research on the experiences of LGBTI+ Brazilians and Brazilian asylum seekers.
Conducted research on the experiences of LGBTI+ Pakistanis and Pakistani asylum seekers.
Conducted research on the experiences of LGBTI+ Caribbean / Latin American and Latin American asylum seekers.
Consultant  with LGBTQ Brazilian activists, Research Groups and NGO's partnered with Bar Associations, Universities, Government bodies, ILGA and UNaids.
Experience
The expert is a human rights lawyer, academic and activist. He qualified as a lawyer 07 years ago and for 09 years now he has been studying and practicing international human rights and LGBTI+ rights. Currently the expert is finishing the Ph.D. thesis he started in Brazil and carried out with a two and a half year period of studies in Birkbeck University. The objective of his thesis is to analyse the international protection of
LGBTI+ identities and how to promote a safe ambiance for this people based on the legal framework we have available in the international scenario.
During this time in the UK he has approved to present his work in prestigious conferences as1: i) Giving Life to Politics; ii) 10th European Feminist Research Conference (September 2018); iii) International Conference: Law, Gender and Sexuality; During this time he also was awarded with a place in the event Freedom and Sexuality: LBGTQI+ rights and the Commonwealth organised by Kaleidoscope Trust.
As a lawyer, he has experience with human rights and LGBTI+ rights, which led him to work as a trial monitor for the American Bar Association (U.S.A - 2014) and as the assistant coach for the Brazilian team to compete in the International Criminal Court Moot Court Competition in The Hague and NY (2010-2016). The xpert has also been invited by the Grotius Centre of International Human Rights to be the judge of the students memorials worldwide in this same competition (2017). Not only coaching or participating in these events, he has also worked in the organisation of events. Besides competition series before the international competition, recently he was part of the head of organisation of the International Conference of Constitutional Law and Political Theory.
The expert has also experience as a teaching assistant in Theory of Law and Human Rights Law (2013 and 2016).
During his career as a lawyer and academic he published his first book in 2017 and more than 20 articles in books and journals, the latest one being in the Law Society website for the occasion of Pride Month in London ( Alphabet soup: How to refer to my LGBTTQI+ colleague). On other note, his work with the trans community encompasses a report of the Brazilian scenario presented in the Comparative Law Conference in Fukoka, Japan (2018) and the collaboration in the amicus curie prepared for the participation of the first trans woman in a hearing in the Brazilian Supreme Court (2017).
The experts previous experience with LGBTI+ organisations include an active participation in the i) Brazilian Bar Association Commission for Sexual Diversity and Gender as a member since its first year; ii) Dignidade Group that works in partnership with UNESCO and UNaids, as a legal consultant; iii) National Association of Jurists for LGBTI Human Rights, as a founding member, trustee and member of the board of directors. In these organisations he has managed funds, prepared researches and documents, as well as tried to open doors for the work they were doing to gain funds and visibility. The matters he was involved include the possibility of gay men donating blood in Brazil (decision expected for later this year); the permission for trans people change their birth given name without asking for judicial permission in Brazil (granted earlier this year); the prohibition of schools to discuss gender issues and queer studies (now awaiting judgement in the Interamerican Court of Human Rights); and the criminalisation of homophobia in Brazil.
Moreover, the expert has been applying my Ph.D. studies and in his experience as an activist in his work as a lawyer/legal advisor in the UK. As as human rights and immigration lawyer at Farani Taylor Solicitors his routine involves working with matters of asylum seekers victims of persecution in countries as India, Pakistan, Afghanistan, Ghana, Brazil and Philippines … The experts biggest outcomes are from applications of people facing persecution and discrimination based in their sexual orientation and gender identity, joining research and data to bring facts and theory to the attention of decision makers.
Languages
English - Portuguese
Political groups expertise
Sexual Minorities and vulnerable people.
Other social groups expertise
LGBTI+ groups; diverse Sexual Orientation, Gender Identity and Expression of Social Characteristics; Queer, non-binary and non-conforming.
Phone
[Private to EIN members]
Address
[Private to EIN members]