New briefing examines accelerated, prioritised and fast-track asylum procedures in Europe
Summary:
AIDA study reveals wide diversity and complexity of procedural models across national systems
New briefing examines accelerated, prioritised and fast-track asylum procedures in Europe
25 May 2017
EIN
The European Council on Refugees and Exiles' (ECRE) Asylum Information Database (AIDA) last week published a briefing examining the use of special procedures to accelerate, prioritise and fast-track asylum applications in various European countries.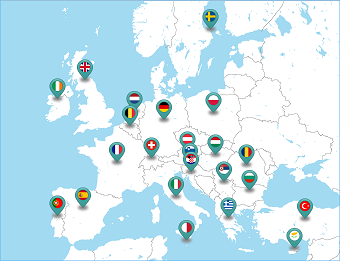 You can read the 17-page briefing here.
AIDA says the briefing "focuses specifically on the concepts of acceleration, prioritisation and fast-tracking, through an overview of their practical application in selected European countries' asylum procedures. It explores institutional and administrative arrangements set up for the purpose of managing caseloads, with examples drawn from recent 'track' or 'cluster' systems developed in different countries.
"The briefing also analyses the practice of nationality-based differentiation of treatment of asylum claimants, whether under the legal concept of 'safe country of origin' or as a matter of administrative practice, and examines the applicable procedural safeguards and necessary guarantees for individuals undergoing accelerated, prioritised or fast-track procedures, with emphasis on time limits for the processing of the application, deadlines and suspensive effect of appeals, as well as legal assistance."
The percentage of asylum applications channelled through fast-track and accelerated procedures in European countries in 2016 ranged from less than 2% in Poland and Greece to over 38% in France.
Germany, which handles the most asylum applications of any European country, introduced a new accelerated procedure in March 2016, though AIDA found it had limited impact on asylum procedures in general by the end of the year.
AIDA noted that figures from certain countries show an understandable link between the application of the accelerated procedure and high rejection rates.
Page 13 of the briefing covers legal assistance, and AIDA says "[a]ny acceleration or fast-tracking of case processing must be accompanied by frontloaded information and legal assistance to ensure that individuals fully understand and are able to participate in the (speedy) process."
A study from Switzerland found that the provision of legal advice and legal representation had a positive effect on the quality of decisions and improved the acceptance of the decisions by the asylum seekers.
In Italy, access to legal aid is said to be interpreted in a particularly restrictive way.
AIDA concludes that "[t]he lessons from Europe's fragmented procedural landscape are crucial to a better understanding of the challenges at hand: speedy decision-making can only be a realistic target where asylum procedures are straightforward, transparent, easily comprehensible and navigated with appropriate support and legal assistance from the outset."
As we reported on EIN last month, the Ministry of Justice recently announced details of a new fast-track system for the UK.