Parliamentary group says Government policies creating "two-tier system" of refugee protection
Summary:
Report finds refugees face too many barriers to integration and a lack of support
Parliamentary group says Government policies creating "two-tier system" of refugee protection
25 April 2017
EIN
The All-Party Parliamentary Group (APPG) on Refugees has today released a major new report which finds Government policies are creating a "two-tier system" of refugee protection.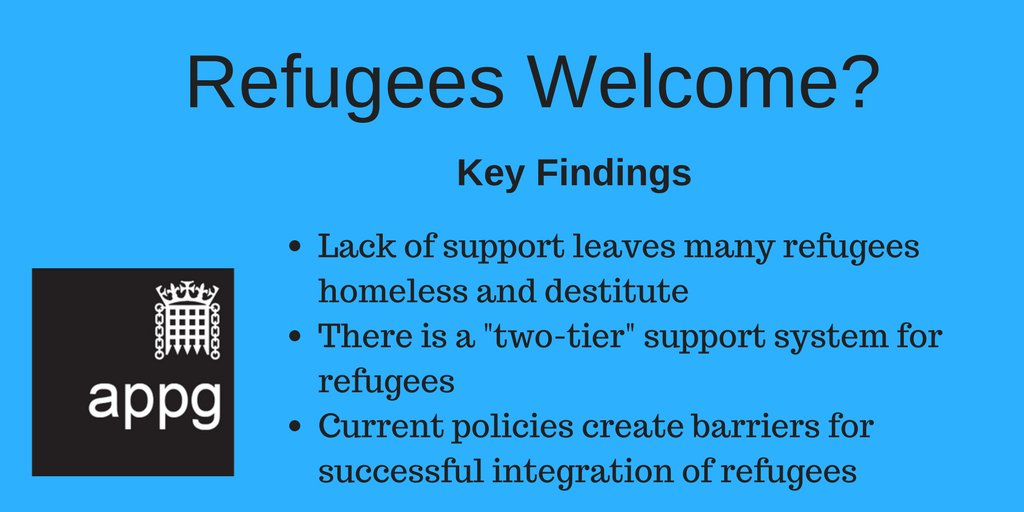 The 68-page report, Refugees Welcome? The Experience of New Refugees in the UK, is here.
In the report, the APPG on Refugees found that refugees who arrive in the UK through a resettlement route are provided with accommodation and receive support to access services and find employment, but for refugees who have gone through the asylum system, there is no such support.
Since the closure of the Refugee Integration and Employment Service in September 2011, there has been no Government-provided support service for refugees who have been through the asylum system, the report notes.
Overall, the APPG on Refugees found there are too many barriers to integration and a lack of support for refugees. Funding for English classes for refugees, for example, was cut by over a half between 2008-09 and 2014-15. Concerns were also raised over the difficulties refugees face accessing healthcare.
The report recommends that the Government introduce a cross-departmental National Refugee Integration Strategy that is applicable to all refugees in the UK, and that a Minister for Refugees should be appointed to oversee the strategy.
The APPG on Refugees report particularly highlights the negative effects of the 28 day "move on" period newly recognised refugees are given before their asylum support is cut off and they are forced to leave their accommodation.
The report says 28 days is "clearly too short" and "[f]or too many refugees, the joy and relief that comes with having their asylum claim accepted is all too soon overtaken by the stress and despair at trying to access social security and housing."
The APPG on Refugees recommends that the Government extend the move on period to at least 50 days, reflecting the time it takes in reality for refugees to access accommodation and financial support, particularly as Universal Credit is rolled out nationally.
The Chair of the APPG, Thangam Debbonaire MP, was quoted as saying: "A refugee is a refugee however they were granted status. Most will want to return home when conflict is over and in the meantime want to contribute to this country. These are often skilled professionals, and by definition, they all have strength and determination to offer.
"But there are administrative flaws in the system which could be easily fixed. Creating a two-tier system for refugees, loading the dice against people who come here to build a new life, is not just the wrong thing to do, but a costly missed opportunity for Britain.
"The UK can learn from the positives examples of the resettlement programme and the Scottish integration scheme to enable refugees to contribute and feel welcomed. Refugees bring so many talents and skills – they just need the opportunities to unlock their potential."
BBC News quoted Stephen Hale, chief executive of the charity Refugee Action, as saying: "This report is a timely wake-up call. The new government must seize the opportunity to enable all refugees in Britain, regardless of how they arrive, to successfully rebuild their lives."