Summary:
Asylum claims in the EU in 2016 down compared to 2015, but still exceed 1 million
EASO publishes 2016 annual report on asylum in the EU
07 July 2017
EIN
The European Asylum Support Office (EASO) this week published its annual report on the situation of asylum in the European Union for 2016.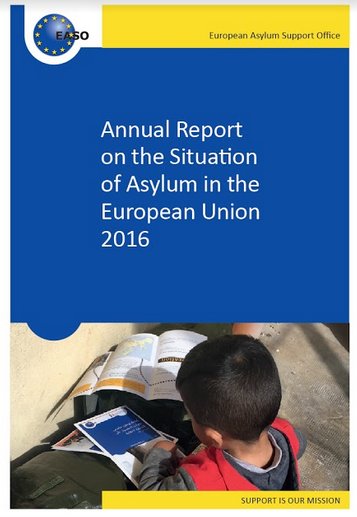 The comprehensive 168-page report can be downloaded here and covers asylum in the 28 EU countries plus Norway, Switzerland, Liechtenstein and Iceland (collectively known as the EU+).
As EASO notes in the report, 2016 joins 2015 in seeing asylum claims in the EU+ countries top 1 million.
In total, there were 1,291,785 asylum applications in the EU+ last year, down 7% from the record 1.4 million claims in 2015.
The report notes, however: "The high level of asylum applications in 2016 had a different background to 2015. While in 2015 most applications were related to persons who arrived from outside the EU+, in 2016 EU+ countries continued dealing with the backlog of persons who had arrived in 2015 and had been awaiting the formal lodging of their application, while in parallel the pressure on the external borders of the EU+ remained high."
Germany continued to be the main receiving country by a large margin (745,155 asylum applicants in 2016) followed by Italy (122,960), France (84,270), Greece (51,110) and Austria (42,255). The UK was sixth with 38,785 applicants.
Both Hungary and Sweden saw large decreases in asylum applications in 2016 compared to 2015 (down from 177,135 to 29,430 and from 162,450 to 28,790 respectively).
Syria was the main country of origin of asylum applicants, with 26% of all applications in the EU+, followed by Afghanistan (15% of the EU+ total), Iraq (10%), Pakistan (4%), Nigeria (4%), Iran (3%), Eritrea (3%), Albania (3%), Russia (2%) and Somalia (2%). Altogether, the top 10 countries of origin accounted for 72 % of all applications.
Section 3.1.2 of the EASO report (see page 58) provides a brief and useful look at 2016's major European Court of Justice judgments on various matters relevant to asylum.