Summary:
Important new report analyses factors leading to successful appeals
Asylum Aid looks at experiences of women asylum seekers in the First-Tier Tribunal
17 November 2017
EIN
An important report released earlier this week by Asylum Aid looks at the experiences of women asylum seekers in the First-Tier Tribunal.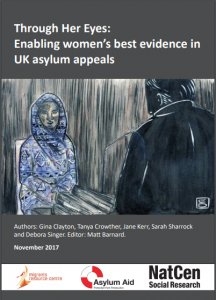 You can read the 96-page report Through Her Eyes: enabling women's Best evidence in UK asylum appeals here.
For the report, Asylum Aid carried out in-depth interviews with 22 women who had been through a First-Tier Tribunal appeal in London, Manchester, Birmingham, Bradford, Glasgow or Newport from 2011 onwards.
In addition, Asylum Aid interviewed legal representatives and First-tier Tribunal judges, and analysed the case files of individual women who had been through the appeals process.
Asylum Aid says it found women asylum seekers needed more communication, information, opportunities to speak and appropriate involvement in their case from both legal representatives and judges. The women raised concerns about aggressive and intimidating cross-examination and having interpreters failing to interpret in full, particularly in relation to gender issues.
The report also looked at what factors underpinned women's asylum claims being successful on appeal. In particular, researchers compared situations where the same case had been dealt with at two different appeals and the second appeal had been successful.
Asylum Aid found that successful appeals were characterised by judges assessing all evidence, focusing on the core of the claim, accepting partial or late disclosure and accepting testimony without additional evidence. Appeals where legal representatives obtained medical and expert evidence and helped a woman to prepare for her appeal sufficiently were also more likely to be successful.
Debora Singer, Senior Policy Advisor at Asylum Aid said: "We were surprised to find that solutions to make the appeals process more gender-sensitive are relatively straight-forward to implement. It comes down to judges making sure that the good practice identified in our report is shared, and that simple changes are made to enable women to have their child looked after during hearings. It's about judges having an open mind, being aware of the effect and prevalence of gender-based violence, and considering evidence holistically. A fairer system for women is within reach."
The report identified the following key factors in successful women's asylum appeals:
• sufficient information and support for women: some women did not know what to expect at the tribunal and were not prepared to give evidence;
• well-prepared legal representatives: there were examples of poor legal practice where women's cases were undermined because legal representatives were illprepared, did not provide good quality legal advice and did not gather medical and country reports;
• open-minded judges: some legal representatives and women felt that judges did not approach cases with an open mind nor consider the evidence in the round;
• access to expert evidence: expert evidence was not always accessible due to availability and funding issues;
• well-trained Home Office Presenting Officers (HOPOs): one view among legal representatives and women was that HOPOs sometimes used aggressive crossexamination and demonstrated a lack of empathy;
• skilled interpreters: it was felt that interpreters sometimes did not interpret in full and excluded or downplayed gender issues;
• childcare provision: there was a lack of childcare provision, which undermined the opportunity for disclosure of abuse and violence.
The report's key recommendations are:
• guidance for judges should be reviewed: the Guidance Note by the President of the Immigration and Asylum Chamber should be reviewed and information on gender-based persecution made available to judges.
• good practice by judges should be supported: the current good practice and supportive culture that exists in sections of the judiciary should be built on.
• the Tribunal Service should improve conditions for women: there should be practical adjustments by the Tribunal Service in order to improve the experience of appeals for women appellants.
• information should be provided for appellants: The Courts and Tribunals Judiciary should create an easily accessible guide so that appellants know what to expect at the tribunal.
• legal representatives should be trained to use good practice approaches: training should include obtaining all possible evidence to support the initial claim, to enhance the quality of legal representation for women asylum appellants.
• only skilled interpreters should be engaged: Legal representatives and the Tribunal Service should only engage interpreters who have the linguistic ability and sensitivity to interpret gender issues in the correct language and dialect.
• Home Office Presenting Officers (HOPOs) should receive relevant training and their practice should be audited.
• legal aid provision should be reviewed: The Legal Aid Agency should review its funding of the provision of appropriate services including early expert reports.
Asylum Aid says it will now be focusing on influencing judges, legal representatives and the Tribunal to implement the report's recommendations.