Summary:
Financial Times reports long-awaited white paper delayed, CBI says businesses "hugely frustrated"
White paper on the post-Brexit immigration system likely delayed until October
05 February 2018
EIN
The Financial Times reported on Friday that the long-awaited white paper setting out details of the Government's post-Brexit immigration system is unlikely to be published before October.
The Financial Times' sources were people who had been briefed on Home Office plans.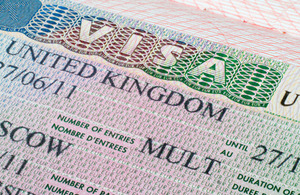 By delaying the publication of the immigration white paper, the Home Office says it will be able to take in the conclusions of the Migration Advisory Committee (MAC) inquiry into the costs and benefits of EU migrants to the UK economy. The report of the MAC inquiry is due to be published in September.
In a statement to the Financial Times, the Home Office said it was considering a "range of options" for the post-Brexit immigration system and would set out its initial plans in "the coming months".
Julia Onslow-Cole of PricewaterhouseCoopers (PwC) told the Financial Times that she had seen some plans of the new system for registering EU citizens.
"I have seen an early version of the new system and in my view can say that it will meet expectations in terms of its simplicity," Onslow-Cole was quoted as saying.
Labour's Yvette Cooper, Chair of the Commons Home Affairs Committee, said on Twitter that the delay in publishing the immigration white paper was becoming "ridiculous."
Cooper said that the white paper was supposed to be published last autumn. Ministers then told the Home Affairs Committee it would be published before Christmas. It was then said it would be published in January, then February.
In October 2017, the Guardian quoted the then immigration minister Brandon Lewis as saying: "We will be publishing a white paper later this autumn … There will be an immigration bill in the new year setting out the framework."
Lewis added, however, that key details of the new policy would not be made public until autumn 2018, after the MAC report.
On Saturday, the Confederation of British Industry (CBI) responded to the Financial Times report by calling for clarity on immigration plans.
Josh Hardie, CBI Deputy Director-General, said: "Businesses will be hugely frustrated by rumours that the Government won't reveal their plans on staff mobility until the last minute. From tech start-ups to care homes, not knowing what staff you will be able to access will deter investment.
"Firms need time to plan for change and that is why many will be deeply disappointed by any delays to the White Paper.
"It is perfectly possible to be clear on people's rights to work in the UK, for the transition period at least.
"The Government should commit now that people's rights to work won't change over the first two years from our date of departure from the EU."